Claiming Noah
A taut, emotional thriller about biology, ownership and love.
Catriona and James are desperate for children, and embark on an IVF program. After a gruelling round of treatments, Catriona finally falls pregnant, and they donate their remaining embryo anonymously.
Diana and Liam are on a waiting list to receive an embryo. Sooner than expected, they are thrilled to discover one is available. After a difficult pregnancy, Catriona gives birth to Sebastian.
But severe postnatal depression affects her badly, and quickly turns into deadly psychosis. For her protection and her baby's, she's admitted into psychiatric care. When she comes home, she again struggles to bond with her baby, but gradually life finds its own rhythm.
Meanwhile, Diana has given birth to a beautiful little boy, Noah. But when he is two months old Noah is abducted … and Diana and Liam's nightmare begins.
Where is Noah?
"What Ortlepp does so well is bring the characters to life. She pulls apart their relationships until you're left with exposed fears, entrenched defensive mechanisms and the everyday push and pull of relationships."
The Australian Bookshelf
"Claiming Noah, from debut author Amanda Ortlepp, tugs on the heartstrings, exploring a modern day dilemma raised by fertility treatments which challenges society's ideas of motherhood and family."
Book'd Out
"This book blew me away. It is such a realistic piece of literature that envelopes some of the most endearing characters I have ever read about."
Aussie Bookworm
"Claiming Noah is a confronting book that is going to be hard reading for some. I found it to be touching and terrifying, heartbreaking and compassionate."
Michelle, Beauty and Lace
"Complex and thought-provoking, Claiming Noah is one of those books that invites opinions and discussions."
The Blurb Magazine
"This Aussie offering will tug at your heartstrings as it considers the very sensitive issues of infertility, IVF and embryo donation."
Styling You
"Claiming Noah is a compelling novel from a new voice in fiction."
Culture Street
"A gripping, emotionally charged story of two sets of parents who could never imagine that their quest for a child could become such an ordeal."
Herald Sun
Further Reading
Download reading group guide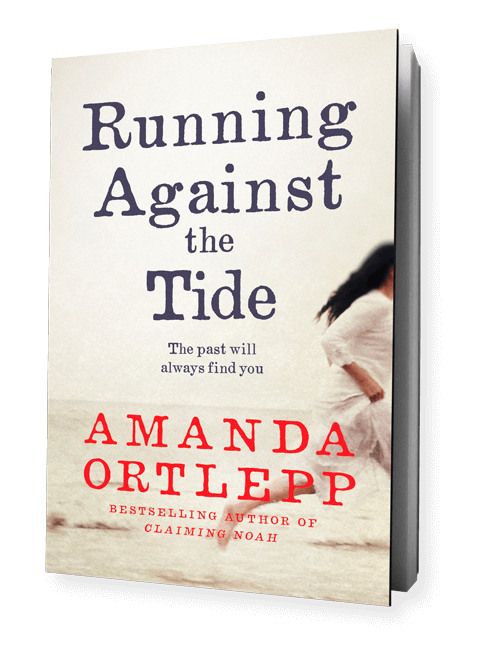 Running Against the Tide
You can run from life, but the past will always find you
Erin Travers is running away from her life and taking her two sons with her to a small town on the ruggedly beautiful Eyre Peninsula. The close-knit township is full of happy childhood memories for Erin, but she's bringing a whole lot of baggage with her.
When the peaceful community is disrupted by threat and arson, rumours fly about who is responsible. In a small town where lives are tangled too closely together, old grudges flare, fingers are pointed and secrets are unmasked.
Brimming with malice and threat, Running Against the Tide is about long-held prejudices and fractured relationships, and cements Amanda Ortlepp as one of Australia's most compelling storytellers.
"A provocative tale laced with deception, displacement, obsession and resentment."
Book Muster Down Under
"Running Against The Tide is a compelling offering by Amanda Ortlepp that cemented my opinion of her as a must read Australian author."
Beauty and Lace Book Club
"This book was everything I could ever hope to find from an Aussie author."
The Aimless Review
"A tense and twisty page-turner."
Write Note Reviews
Read a Chapter
Download reading group guide